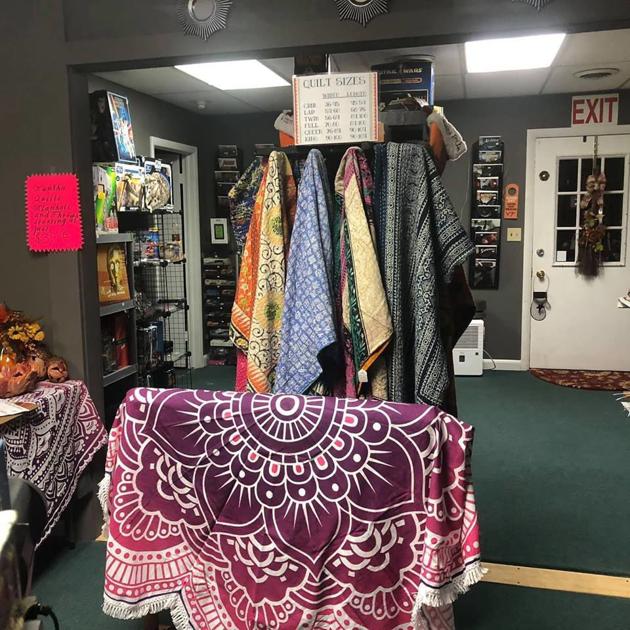 ABINGDON, Va. 'ÄĒ Just try to resist the temptation to take a whiff of scented essential oils, reminisce over your favorite 'ÄúStar Wars'ÄĚ figures or thumb through hundreds 'ÄĒ more like thousands 'ÄĒ of vintage comic books.
All of these items and more can be found at Abingdon Emporium & Collectibles at 333 W. Main St., next door to the Historical Society of Washington County in Abingdon.
Kevin Lyons and his wife, Tammy Lyons, never planned on opening an emporium store when a job offer brought the Carroll County couple to Abingdon a year ago.
'ÄúI had always dreamed of opening a comic shop,'ÄĚ said Kevin, who has been collecting the books since he was a youth 40 some years ago. 'ÄúThen, we kept adding more and more items to our inventory.
'ÄúWe thought about naming our new business 'ÄėThe Lyons Den'Äô after our last name, but there is a pizza place in town by that name.
'ÄúSince we carry such a wide variety of merchandise, we decided on the name Abingdon Emporium,'ÄĚ he said.
'ÄúI'Äôve used my savings to open this store. We found a good location to rent, and people are amazed at the transformation of our space that needed some renovations.'ÄĚ
Managing a business just comes naturally for Kevin.
'ÄúMy father was a retail store manager for as long as I can remember. I got my business degree from Radford University, and I'Äôve been in the retail industry ever since,'ÄĚ he said.
Fan frenzy
Abingdon Emporium & Collectibles opened in October, and the first item that sold was a 'ÄúStar Wars'ÄĚ All Terrain Armored Transport (AT-AT), part of Kevin'Äôs own 'ÄúStar Wars'ÄĚ collection.
'ÄúI was pleasantly surprised that it was the first item to go, along with my vintage action figures from the first three 'ÄėStar Wars'Äô movies from the 1970s and 80s,'ÄĚ Kevin said.
'ÄúPeople had seen the vintage 'ÄėStar Wars'Äô items through the store window, and I was getting calls before we even opened.'ÄĚ
The store will tell you that men are not the only ones who embrace the 'ÄúStar Wars'ÄĚ craze.
'ÄúWe had a lady 'ÄĒ they'Äôre not all men 'ÄĒ who came in yesterday and bought vintage 'ÄėStar Wars'Äô toys.'ÄĚ
Comic books
The couple recently expanded their merchandise into a back room, stocking DC and Marvel comic books that range from the mid-1970s and early 1980s and feature all the staple superheroes, like Superman, Batman, Spider-Man and the X-Men.
'ÄúComic books are still popular 'ÄĒ maybe not as popular as they once were. But there are no other comic book stores in town,'ÄĚ he said.
The collector said prices of vintage comic books can range from $3 to $1,000, depending on the condition and whether it's a key issue in a series, such as when Batman introduced a new Robin.
'ÄúThe best comic book sale I'Äôve had so far was the sale of 'Äė[The Amazing] Spider-Man #129.'Äô It has the first appearance of the Punisher. If that book had been purchased off the press, it would have been worth $3,000. I ended up selling it for less than that, but it still was a good sale.'ÄĚ
Herbal remedies
But the store is not all about superheroes.
'ÄúWe offer a variety of unique products at reasonable prices. I don'Äôt think you can find a lot of these items anywhere else in town,'ÄĚ said Kevin.
"We're just different from other stores in town. Our product line is constantly changing. You can come in one week, and we'll have a large selection of Young Living essential oil products, and the next week you might find imported sea grass baskets.
'ÄúI try to be as diverse as possible while also selling as many American-made items as possible.'ÄĚ
While the husband likes buying and selling new and old comic books, baseball and football cards and 'ÄúStar Wars'ÄĚ memorabilia, Tammy is interested in the Young Living essential oils, which are used to enhance home, wellness and beauty.
'ÄúI'Äôve always been interested in herbal medicines,'ÄĚ she said. 'ÄúGrowing up as a child, I can remember my great-grandmother would find herbs in the woods that she used as medicines. I'Äôve always been intrigued by holistic medicines. I cook with herbs, too.'ÄĚ
Tammy plans to become a certified aromatherapist with Young Living so that she can offer classes at the store and use their formulas to make Young Living soaps and candles to sell.
All that and the kitchen sink
'ÄúWe'Äôre also refocusing our business to include the healing powers of oils, such as cannabidiol, also known as CBD oil,'ÄĚ he said.
The couple believes the oil, which is derived from the cannabis plant, has many medicinal benefits. The product is sold to them by Highlands Hemp, a Southwest Virginia-based company that provides ultra-refined CBD-rich hemp products, such as the CBD hemp oil. Educational materials are provided with sales of the oil.
'ÄúThe oil is legal, but I know it'Äôs a controversial product right now. But I'Äôve heard it can alleviate the symptoms of many ailments and even fight cancer.'ÄĚ
Other items sold at the emporium include kantha quilts made in India.
'ÄúThey are hand-sewn in India. I get good reviews on them. I can'Äôt keep them in the store,'ÄĚ said Tammy.
'ÄúAnd everyone loves the Paparazzi jewelry we carry. It'Äôs lead- and nickel-free but doesn'Äôt come with a big price tag.'ÄĚ
The store also sells coffees from Honduras Coffee Shop in Stuart, Virginia, and gourmet chocolate from Nancy's Fudge in Meadows of Dan, Virginia, off the Blue Ridge Parkway.
They stock an assortment of pocket knives, including the high-quality Buck knives, hand-sewn purses, sling bags and imported lamps.
Store hours are 11 a.m. to 7 p.m. on Tuesday through Friday, 11 a.m. to 4 p.m. on Saturday and 1 to 5 .m. on Sunday.
Follow Abingdon Mercantile & Collectibles on Facebook, or call 276-233-2329.
Source: https://www.swvatoday.com/news/article_7add8f84-6913-560d-9569-20227569f3ca.html